Tourist Spots in Patna Bihar
Patna is the Capital of Bihar and has many tourist attractions.
Goal Ghar In Patna
Shershah Masjid
Shershah Masjid was built by Sher Shah Suri, an Afghan chieftain, who defeated Mughal Emperor Humanyun to rule Delhi. Locally known as Shershahi, the mosque was built in 1545, making it the oldest mosque in Patna.
Kumhrar Bagh
Kumhrar is a garden that also has excavations that are a window to the great Mauryan Empire and its capital, Pataliputra. As most of the structures built by Mauryans were in wood and they could not survive but whatever remains are there they impressive. A large pillared assembly hall, a Buddhist monastery, parts of Anand Bihar, and some clay figures and wooden beams have been found at the site.
Har Mandir
The Har Mandir Temple, also referred to as Patna Sahib, is the second most important pilgrimage of the Sikhs after the Golden Temple of Amritsar. The Takht Harmandir was built by Guru Gobind Singh, the 10th guru of the Sikhs. The gurudwara is made of white marble and is great piece of art. Located in Patna City, the older part the city, it also houses a museum on it's third floor.
Golghar
The Golghar is a single dome structure is unique and an architectural wonder. It was built to serve as a granary by the British to store grain to be used in times of famines. The base of the building is 125 meters in width and the walls are 3.6 meters thick. There are stairs to go on to the top of the building from where the city and the river Ganga can be viewed.
Patna Museum
The Patna Museum has a large collection of artifacts. The Yakshi of the Mauryan period is very famous, as is the a huge tree that has turned to stone.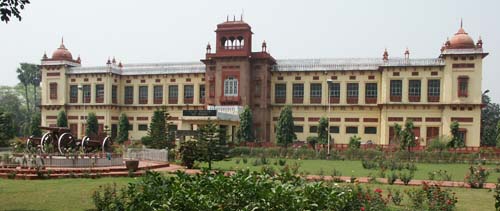 Patna Museum
Open: 10.30 am- 4.30 pm Days: Tues- Sun
Sanjay Gandhi Zoological Park
A great favorite for local residents, the Patna zoo has a good collection of flora and fauna and even has a toy train. It also houses a fine golf course.
Patna Zoological and Botanical Garden
Jalan Museum
The Jalan Museum is situated over the ruins of the Qila House, the site of Shershah's fort. It is a private collection of Chinese paintings and of silver and jade filigree work of the Mughal period.
Jalan Museum
Bihar Institute of Handicraft and Design
The Bihar Institute of Handicraft and Design is trying to revive the old crafts and art of Bihar to modern use, especially Mithila paintings.
-------------------- ------------------------------- ---------------------